This page showcases models or things I've worked on that I'm particularly proud of.
Fair warning: lots of big pictures!
For finished projects, check out my profile on Putty and Paint!
Freehand Cygnus
This is my first real. complex bit of free hand.  There are simpler ventures below, but this was the first real test of freehand skill.  See how I did it, here.
Alt Journeyman Warcaster
That face, those eyes.  Everything I learned on the Viking Girl, done on a new model.  So happy with how her face turned out.  That's the big accomplishment here.  Again, this is a WIP shot, I don't have any good shots of the finished model.  If I get some from Northblade, I'll update this.
Viking Girl
This was the miniature that we painted at the painting class with Meg Maples in 2014.  This is where I learned how to paint faces, eyes hair and flesh.  I also talked with meg about freehand and how to mentally prepare for the chance that you could royally screw it all up.  I also learned how to erase paint, which was really cool.
Some playing with simple freehand.
Butcher1
By far, one of my favorite models, the 2010 resculpt of Butcher1.  This one was for me, I;d previously painted one for the Khador Black & Pinks for charity, but this one uses my Khador scheme of greys and reds.
What's below is a close to finished WIP.  Once I finalize him, I'll update this.
GhetorExtreme Conversion
Not a painting project, but a commissioned conversion to kitbash the Ghetorix mieces onto the Extreme Warpwolf.  See the walkthrough here and here.
Sergei Cherenkov & Lefty
My IRKPG characters, Sergei Cherenkov (the Field Mechanic / Man-at-Arms) and his labor'jack, Lefty.  The 'jack's name is Lefty because inevitably, that shiedl arm takes a pummeling and needs to be replaced, not unlike Sergei's did when it was lost in battle.
Full Scale Black 13th
The original Black 13th models are not to the right scale, and the Resculpted Gun Mages look fantastic, so I bits ordered some models and a spare arm, and voilà!  See the conversions, here.
Conquest
Excepting the primer and red basecoat, completely hand-brush painting a colossal was a feat.  It's the largest model I've done to date, and I really like how it came out.
Aquablight Lylyth1
This model was done shortly after I felt I had mastered 2-brush blending, and really shows off that milestone in my painting ability.  The use of aqua for a primary color was taken from a NQ article on a "Blackfrost" inspired alternate theme.
Green Goblin House Shyeel Magister
My first real attempt at OSL, I think it came out OK.  I think I could do better now, but I'm still really happy with how he turned out.  Plus, I don't get to paint green, purple or orange nearly as often as I'd like, so that made this mini especially enjoyable.
Khador Black & Pinks for Charity
This army was done for an online painting contest, Paint It Pink, to help raise awareness for Breast Cancer Research.  It won Best Overall, and Best Warmachine Army.  In 2013, it was raffled off at the NOVA Open, with proceeds going to the Breast Cancer Research Foundation.  It raised over $1,500, and was won by a chap in Tazmania, Australia.
Skorne
This Skorne army was done at the same time as the Khador Black & Pinks, as part of the "two 35pt Theme Forces for Templecon" Clash of the Titans dealio on Lost Hemisphere.  Everything on them was washes and glazes.  What. A. Pain.  Skorne stuff looks good though, the models are fantastic…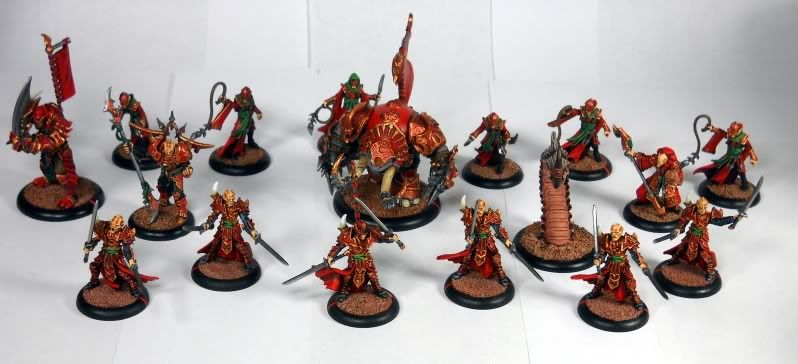 Space Marines
These are my custom chapter, a descendant chapter of the Dark Angels.  I have a thing for angel and shield iconography, so I naturally gravitated towards their symbols.  These models represent my era before I knew how to blend, wash, highlight or shade.  It was mostly just good brush control and edge highlighting, as is the GW style.  That and knowing how to apply decals (Thanks, Dad!)
The writing on the leader's chest was with a micro-pen, and the tabard was a few washes.  Overall, very clean, but very flat.  That was part of the chapter's fluff, though (rather, it was a way to avoid having to attempt weathering).
First Miniatures
These were some of the first miniatures I ever painted, years and years ago.  I started with the 3rd Ed Starter set, which was Black Templars vs Dark Eldar.  10x Space Marines and a Land Speeder vs 20 Dark Eldar Warriors.  I even had the Limited Edition set with the special Black Templar Captain.  I think I still have him, too…