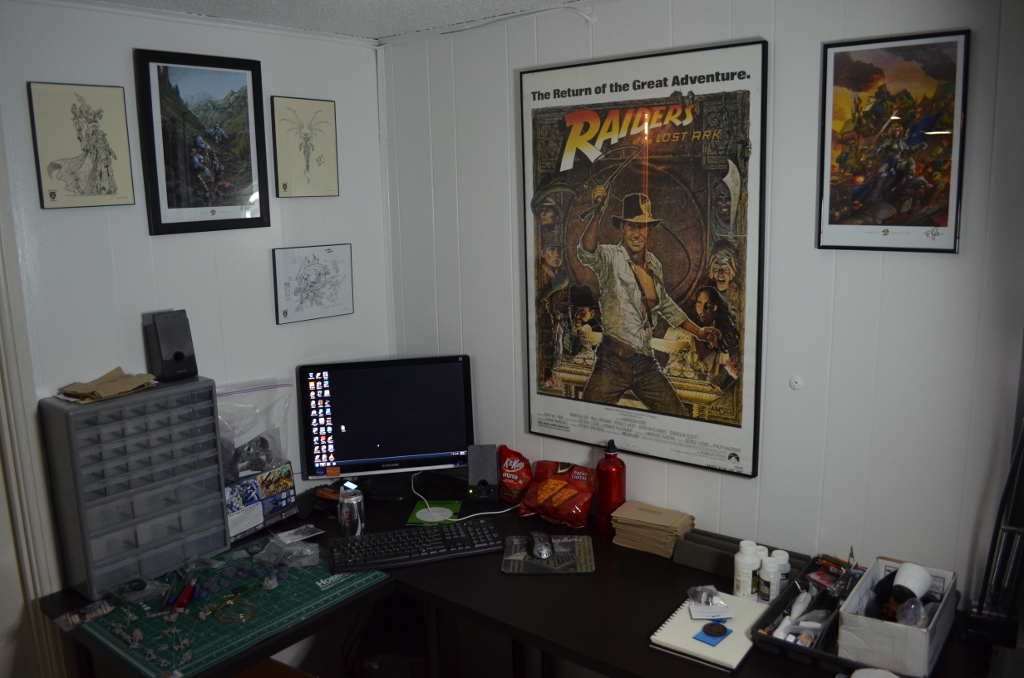 I finally have my new painting studio in the house organized well enough to show it off.
This is the main part of my desk.  It's the home for the PC, the cutting mat and a large bin organizer that has yet to be populated with bits and goodies.  The art on the wall is some concept art from Templecon's Iron Arena (Una, Aby2 and a Nephilim Bolt Thrower) and the color picture there is a signed print by Florian Stitz ("Trolls of the Mountain").
I still need to get a proper frame for the amazing Plarzoidasaurus logo hand-crafted by BobaFerret herself, which will go up right above the PC monitor, on the right-hand wall.
Currently on the cutting mat is my Shattered Sword Starter box and a unit of Purifiers (for an easy 35pt force) – they're all cleaned and in the largest pieces I'll have them in until painting is finished.  Also, there's a single Eldar Wraithblade with a pair of Ghost Swords.  He's a competition piece.  There's a Nemo2 and a Firefly for Clash for a Cure (I've been asked to paint this year, not just assemble), and a Blood Angel Sanguinary Guard (competition mini).  Lastly, there's a Lizardmen Temple Guard, a Dark Elf Corsair and the Chaos Lord from the Dark Vengeance set (who happens to be missing an arm right now for some reason).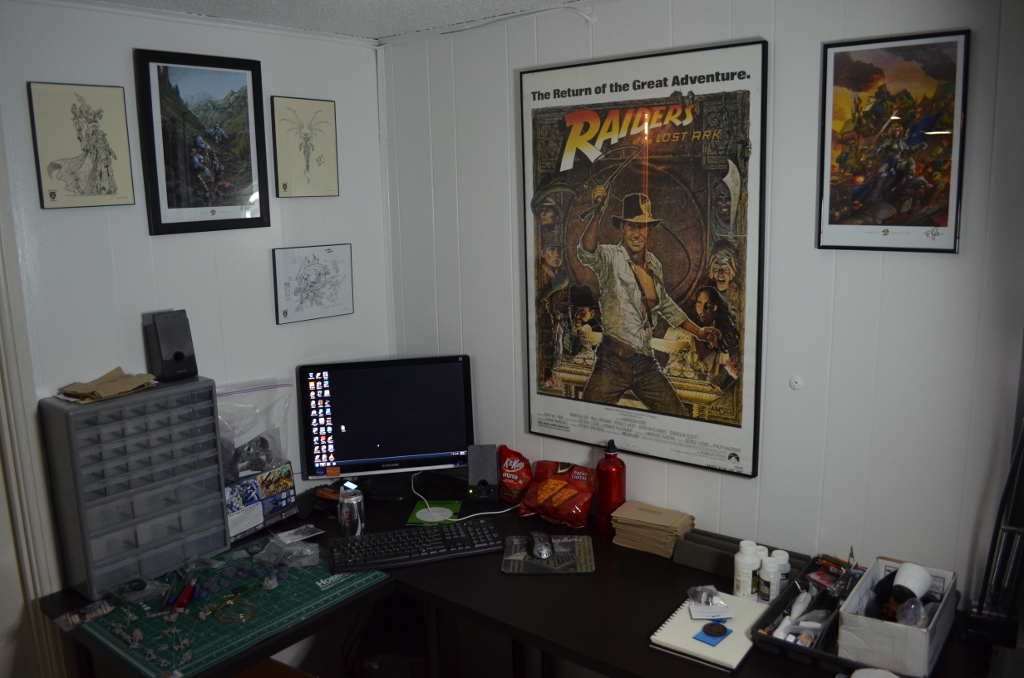 Here's a better shot of the whole desk.  As you can see, there's three main parts.  The Assembly Station, the Computer Station, and what will be the Painting Station once I get everything in Assembly airbrushed.  Note the gigantic pile of Chipotle Napkins.  I still say they're the best for painting.  They don't give up fibers which end up on your models, they don't fall apart, and they come with Chipotle.  I;d love them even more if they were white, and didn't mess with color tests.
Anyway, the Raiders poster covers up the gigantic metal panel for the house's circuit breakers, and the other framed picture there is another signed art print by Florian ("Fighting for Llael").
Also, Diet Coke, Kit Kat and Doritos.
I have no shame when it comes to snacks.
Next up is the gigantic cube-o-saurus.  It's currently housing all my unbuilt models, basing material, and alternate games.  And that's just the top two rows of boxes.  The third row has my terrain box, mobile hobby kit, compressor and tournament kit, and my current bits box and bag.  Up top are all my Battlefoam trays of built (and a few painted) models.
There's lots more room, though, for all the stuff in the…
Closet!
The bottom box is electronics gear (5.1 surround sound system, power bricks, USB cables, etc).  The middle box is misc large hobby stuff (light box, lights, etc), and the top box has all my small hobby stuff (paint additives, airbrushes, empty bottles, etc).
The power station there was given to me by a good friend who moved away.  It needs to be finished and then painted.  I hope I can do as good a job as he did on it thus far.
Lastly, there's the odd corner between the two doors.  Left goes to the rest of the basement, right goes to a bathroom and laundry.
The neon clock is a gift from my Dad, who is a baby boomer and into all things 50's through 70's.  I think it's pretty slick, though the green light won't be on often as it tints the entire room green and throws off my colors when painting.  On the shelves below are my playing card collection (one decent sized box thus far) and the few model car kits I have that aen't in long-term storage.  There's a Ferrari Enzo, a handful of WRC cars and a lone racing bike – all Tamiya (of course).
The green shoebox happens to have every MKII book int, save the Mercs and Minions Forces of books.
---
So, now that's the tour.
Having gone through everything in order to get into the cube-o-saurus, I found all my miniatures from games outside Warmachine and Hordes.  I have stuff from:
Dystopian Wars (Blazing Sun)
X-Wing
40k (Space Marines, Tau)
Fantasy (High Elves)
Pathfinder & Reaper RPG minis
Relic Knights
Super Dungeon Explore
I'm due to receive some N-scale model trains from my father when my folks visit in September, because as I realize I want to try my hand at dioramas and terrain more, I wanted to try doing something that not many in the model train hobby have seen before:  a post-apocalyptic layout.  But, I digress…
This all leads me into the audience participation questions for this post:
Have you been or would you be interested in seeing miniatures from other manufacturer ranges?  
If so, what?  If not, why?
… how about things outside gaming like model cars, model trains, historical miniatures or busts?
… how about electronics and programming, as they apply to lighting / animating models or terrain?