Third time's the charm! (Lylyth)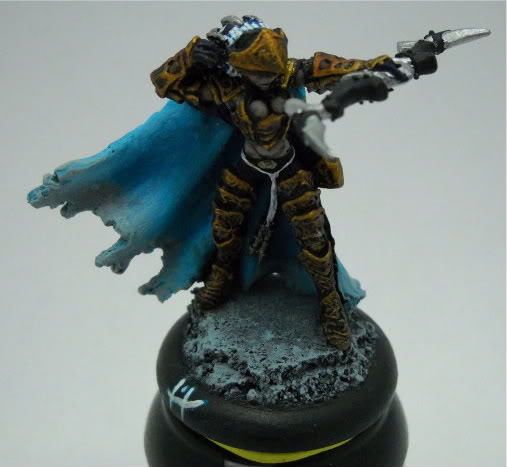 So, after quite a bit of input from the Privateer Press Forum, I've addressed a few problems with my scheme.
First, my beast skin lacked depth – This was fixed with a layer of highlights followed by a watered down black wash. I also re-highlighted the shredder's scales and added just a touch of white to his spines.
Secondly, Lylyth's armor was way too bright, and the highlights far too thick. I blended in the highlights a bit and then knocked down the brightness of the armor with two brown washes and a black wash. This way, I kept the depth and texture but dimmed the glaring brightness. I also used a watered down blue wash to smooth her cloak a bit – this also deepened and enriched the color just a tad.
Lastly, I was able to get the first layer of skin down on the Carnivean! This is 3 layers of skin tone (basecoat Grey -> 1:1 Grey and Flesh -> 1:3 Grey and Flesh) followed by a strong black wash, concentrated on the recesses and folds of the skin. From here, he'll get a nother coat of the 1:1 and 1:3 and then a watered down wash to finalize the skin.
I'm hoping to get the Carnivean done this weekend. Stay tuned (Subscribe)!
Tomorrow is Foodmachine at Dream Wizards in Rockville.  I'm fairly excited to get to play some more games and hopefully, I'll have some pictures from the event!