Foodmachine and Carnivean WIP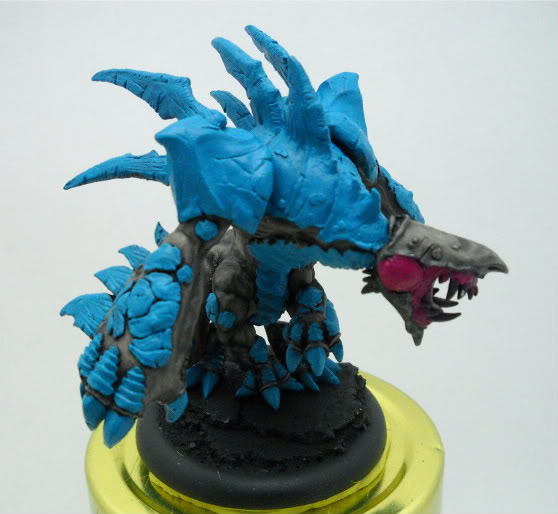 So, I had an absolute blast today at the Foodmachine event up at Dream Wizards in Rockville. I played a few games against some great opponents and cheated for charity! We were able to donate over 600 cans among the 14 of us that participated, and all for charity! Huzzah! Big thanks to Nate (PG_CrashTestDummy) for putting the event together!
After the event, I got home and was in a good mood, so I was able to power through some more work on the Carnivean. A layer of highlights and a followup wash finished the skin, and a careful, slow, tedious basecoat of Hawk Turquoise went down on all the chitin. I also hit the maw with a bit of Warlock Purple.
Here's the Carnivean WIP:
I realize the basecoat isn't terribly flashy, but it does help set the tone for the model. I really think the balance between turquoise and the skin works. Neither feels terribly over powering.
What do you think? Did the skin turn out well? Does the model feel balanced to you?
Also, do you like the new format of small pictures in a tile setting like this, or do you prefer the big pictures in a column like my older posts (like this one)?
Let me know what you think!