Supplies, Skorne and … Spaceships?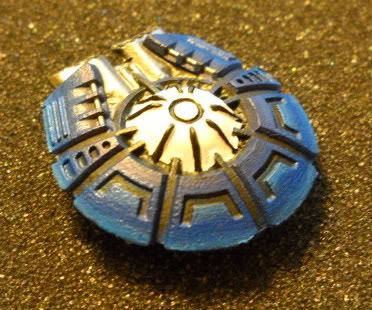 I typically allow myself about $20 a week to invest in my models. Three weeks ago it was the Blazing Sun Frigates. The week after that I picked up the Battleship. Last week, I picked up Lord Tyrant Xerxis. He's not put together yet though, sorry. Maybe next time?
I bring this up because this week, as much as I want mechanics for my pStryker Theme Force, I bought some hobby supplies instead. Primarily, I was happy to find Master's Brush Cleaner.
As I understand it, this stuff is amazing. Here's a Youtube video explaining how to use it. When I get a chance, I'm planning on spending some much needed time with my brushes and this stuff. It will be good.
But wait, there's more!
I also grabbed two new brushes. The first was a #2 Chisel Blender
that I'm going to use for covering large areas. The other one was a #10/0 Spotter
for detail work.  Yay for cheap-but-still-(hopefully)-really-nice-and-will-last-a-long-time paintbrushes!  And, now, if I mess them up, I have the magic soap!
So far so good. My other big problem with painting are my old paints. They're a bit dry and need some attention. So…. I picked up some Liquitex Acrylic Flo-Aid. It helps the pigment separate for even coverage but it also increases water tension. Thus, it makes the paint want to even out into a smooth coat, but if it's not diluted enough, the paint will pool into drops on the model and not lay flat like it's supposed to. I'm a bit skeptical, yet optimistic. We'll see.
Enough about random stuff, here's what you're really here for. Some pictures of models!
I realize it's fairly unimpressive right now. Sorry. All that's down is three or so coats of diluted Gore Red. Most of Morghoul's armor is the lacquered red over gold style, so there's not much at this stage. There's actually a nice tutorial in the Skorne book on the lacquered armor. I'm hoping it turns out for me as well as it did for the studio.
The Cyclops Savage on the other hand has lots of red armor…
He's looking pretty good. There's a fair bit of regular old red armor there, so there's lots to block out. I'm thinking aqua for the accent color… or is that too Everblight? Perhaps some jade green? Thoughts?
I'm thinking I'll be doing my reds via glazing. It involves mixing paint and transparent medium to achieve a see-through-yet-tinted layer of paint. You then layer this on over and over again and the more layers there are, the stronger the original color. I'll cover it in more detail, but it worked decently well on my Firestorm Armada Directorate Frigate.
Oh, I didn't show you? Check it out:
Yay spaceships! Now, before you scrutinize the little guy, remember… the model's just a little larger than a quarter. The white dome doesn't work, so that needs a change. Suggestions?